After nearly eight hours of trudging through the mud, the party finally had enough. They set up a quick roadside camp and settled down for the evening. There was no hope of getting dry, but at least they'd be out of the rain for the night. After a long day on the road, they needed a good, long rest.

Only the bandits had other ideas.

Episode 4: The Road to Whitestone
There is no shortage of campsite battle maps available on the Internet. I know, I looked at quite a few of them. I scanned through hundreds of images, but couldn't find one I liked for this encounter. The main criteria being:
Heavy Rain
Night

Dense Forest

Rest Stop
The first and last requirements were the most important. I wanted the map to reinforce the dreadful weather. It needed to be dark and wet. The last one was based on the fact that the party would be using a site used regularly by the road patrols.
In the end, I came up with the Roadside Camp battle maps below. It comes in Stormy Night and Rainy Day versions. Enjoy.
Roadside Camp (Stormy Night)
Roadside Camp (Rainy Day)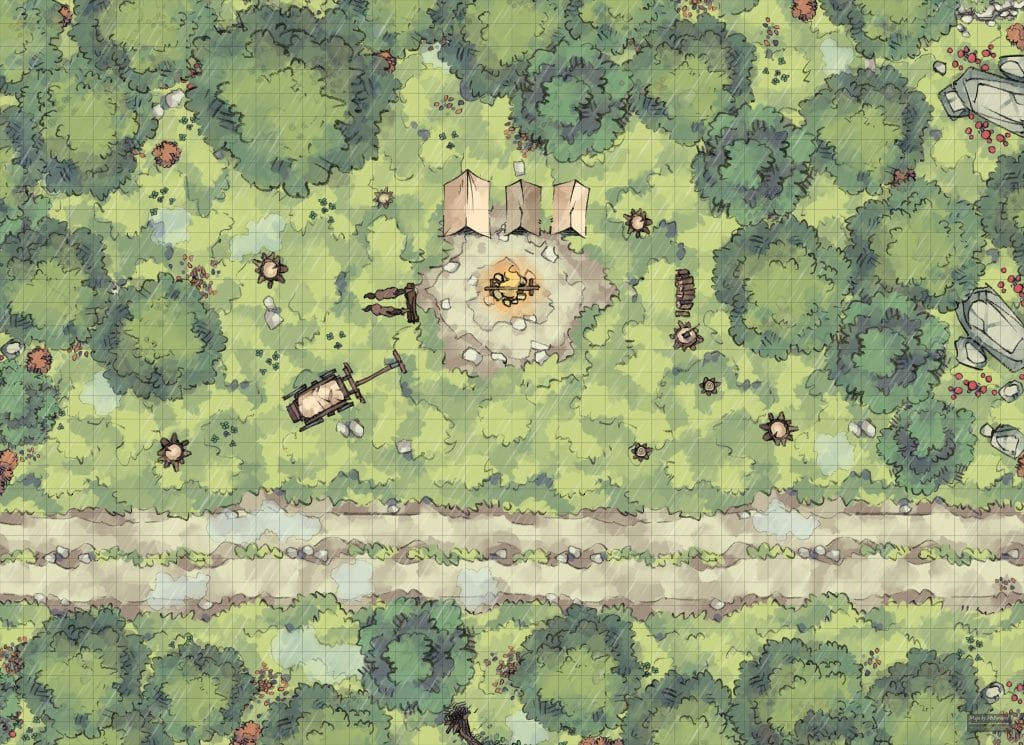 Both maps are 44×32 and 140 DPI. Once again, I have the incredibly talented Ross McConnell at 2 Minute Tabletop to thank for this map. I used his Roadside Tiling Road & Grass maps with his Camp and Bandit Camp assets for this map.