Last updated on April 24, 2020
The War Camp at the Abandoned Quarry is another old map that I never shared. It is based on the "Abandoned Quarry" map from 2 Minute Tabletop and includes assets from their "RoadSide Camp" token set.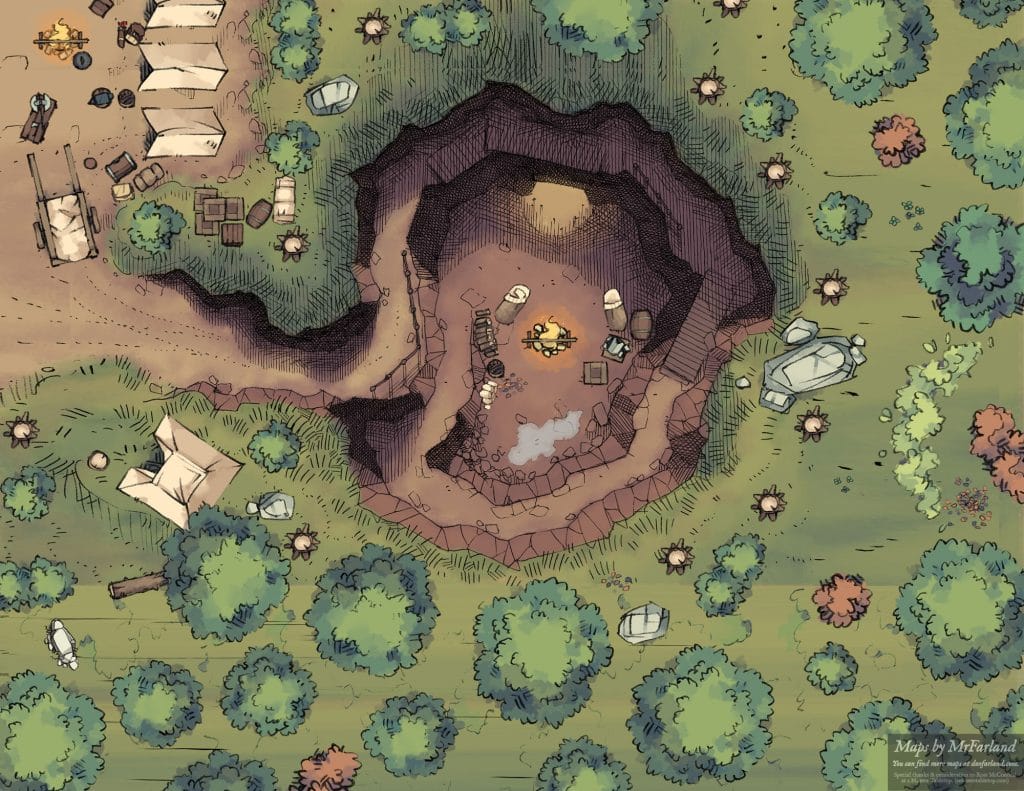 In our adventure, this map served as one of the coolest encounters in this particular story arc. The party's search for a local cleric leads them to a band of orcs planning a raid on a nearby town. A raid that would have made use of the Main Street battle map, I posted a few days ago.
Their mission was to slip into the quarry, find the cleric and get out. There was no way they could deal with the entire war band, so stealth was paramount. While the ranger and fighter trained their bows on the orc cooking at the bottom of the pit, the rogue slipped down into the shadows. He climbed down to the first tier, waited for the patrolling guard to pass and dispatched him quietly. On cue, the archers fired and took out the cook. The rest of the party climbed down and they concealed the rope.
The party was new to Dungeons & Dragons, but they executed the miniature dungeon crawl expertly. They avoided the few traps I'd set for them, rolled well on stealth, and dispatched sentries quickly and easily. Feeling cocky, they opted to take on the chief and his guards rather than sneak past them. They managed to survive, but the fight was tough. They found the cleric, a couple of nice items, and made their escape. Another run of good stealth rolls, some with disadvantage, and the party was back on top of the quarry and slinking away.