Last updated on August 20, 2023
Over the past couple of months, I have been swamped with work (day job) and various home improvement tasks. While it has slowed down my work on the Encyclopedia Exandria module for EncounterPlus, it is still moving along nicely. While I still have a very long way to go, I figured I'd share a short little preview video and some screenshots of the module in action.
Encyclopedia Exandria in Action
While the video could certainly benefit from a voiceover, I simply didn't want to wait for a quiet moment in our own personal slice of quarantine. Instead let me just give you the low-tech, bullet list highlights.
The Encyclopedia Exandria module draws on information in the Explorer's Guide to Wildemount, the Tal'Dorei Campaign Guide, the Critical Role Wiki, and Critical Recap.
The module will be available for free on my web site and you will need EncounterPlus. It will be 100% compliant with WotCs Fan Content Policy.
In the initial release of the module I will have pages for various factions, the pantheon of gods, planes, races of Exandria, and more than 500 pages on different geographical areas.

All the

maps in the module were created by me using Wonderdraft. I have to incorporate changes from EGtW, but hope to get world, continent, and region maps done soon..

You can navigate between pages using wiki-style links that allow the DM to quickly jump between pages and back again.

DMs can easily copy existing pages and create new locations, geographical regions, gods, etc to suit their own personal home game.
Some Preview Screenshots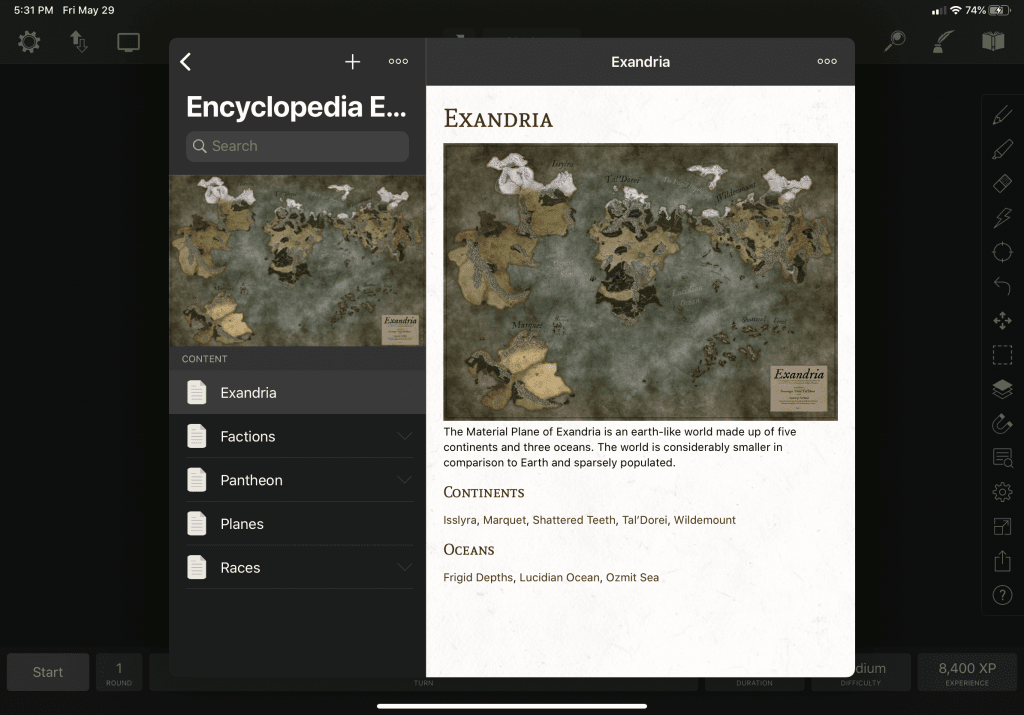 Release Date?
Unfortunately, I do not have a release date or even a release target yet. I still have well over 400 pages to create, images to source, and maps to make. I'm going to try and get a 1.0 release out by the end of June, but … well … life has a way of throwing us curveballs. But then that has been the theme for 2020 in general.
Keep an eye on the site and Twitter for future updates.